Tear down statues or erect new ones? London City Hall, in a self-critical gesture of rare elegance, chose the second option. A sculpture by Malawian artist Samson Kambalu was installed Wednesday, September 28, on the fourth plinth of Trafalgar Square, which has temporarily housed contemporary works of art since 1998. This time it is Baptist pastor John Chilembwe , at the origin of an uprising against British colonial rule in 1915, which stands proudly in the heart of the English capital for two years. "No doubt many people do not know Chilembwe. And that's the whole point! says Samson Kambalu, who is also an associate professor of art at Oxford University. Antelopesuch is the name of the work.
servant turned pastor
For those who don't know, John Chilembwe was born in 1871 in what was then called Nyasaland, a British protectorate since 1907, where settlers massively appropriated community land. In the early 1890s, Chilembwe was a simple servant under the orders of John Booth, an independent missionary who founded the Baptist Zambezi Industrial Mission, not far from Blantyre. Unlike most other missionaries from the United Kingdom, John Booth advocated equality between all the faithful in the various missions he founded. In 1897, John Chilembwe, strongly influenced by his boss, followed him to America where he joined a Baptist establishment, the Virginia Theological Seminary and College of Lynchburg.
To read

Slavery: why Emmanuel Macron should not honor the "slave trader" Kerguelen
At the time, the establishment was run by an activist of the African-American cause, Gregory W. Hayes, known for having offered his help to the pygmy Ota Benga, exhibited like a wild beast in the United States. In this city of Virginia where he was ordained a priest in 1899, Chilembwe discovered the ideas of the abolitionists John Brown (1800-1859) and Frederick Douglass (1818-1895), and especially the fight of Booker T. Washington, defender of African-Americans and founder of the Tuskegee Institute.
A year later, in 1900, John Chilembwe returned to Nyasaland, funded in part by the National Baptist Convention. There, for about ten years, he put into practice the reformist ideas of Booker T. Washington around the Providence Industrial Mission in the district of Chiradzulu: it is a question, if one sums up, of arousing respect by the work, education, integrity, personal development. If he criticizes the way in which Africans are treated, it is first of all in a hushed way, by developing schools which will accommodate up to 1,800 people, children and adults alike. However, around 1912-1913 he took a more radical turn, rebelling against the land rights imposed on the Shire Highlands and the indecent working conditions prevailing on the colonial estates – and in particular on the Alexander Livingstone plantation. Bruce Estates (AL Bruce Estates).
Forced labor
It is in this immense property that a certain William Jervis Livingstone rages, hesitating at nothing to make the land bear fruit on which, since 1906, a robust form of cotton has been cultivated. Needing a very large labor force for his harvests – about 6,000 people for six months of the year – William Jervis Livingstone practices the "thangata". Originally, this word from the Chewa language means "helping each other" between neighbours, in the agricultural field and on the basis of consent. In the language of WJ Livingstone and in the colonial sense, it is something quite different: it is quite simply a form of forced labor required to pay rents and imposed taxes.
For Alexander Livingstone Bruce, the emancipation that Chilembwe defends is obviously embarrassing. Hotbeds of unrest, its churches and missions are prohibited on the estate, closed when they exist, even burnt down… For the white occupants, Chilembwe is this troublemaker who dares to be the spokesperson for those who claim the right to use the land – their land – left fallow.
To read

Yasmina Khadra: "Who remembers the Algerian skirmishers? »
Increasingly outraged by the violence of the settlers, riddled with debts, eaten away by illness and devastated by the death of one of his daughters, John Chilembwe gradually became more radical. From now on, it is no longer a question of emancipation through education and work as Booker T. Washington professed, but of delivering an entire people. In 1914, 19,000 Nyassas joined the ranks of the King's African Rifles and 20,000 others were requisitioned to become porters in the East African military campaign against the Germans in Tanganiyka. During the battle of Karonga, in September 1914, on the shores of Lake Nyasa, Chilembwe lost his temper and wrote all his indignation to the Nysaland Times, protesting against this war which is leading his compatriots to death for "a cause which is not theirs". The missive, of course, is not published: the governor plans to deport Chilembwe to Mauritius.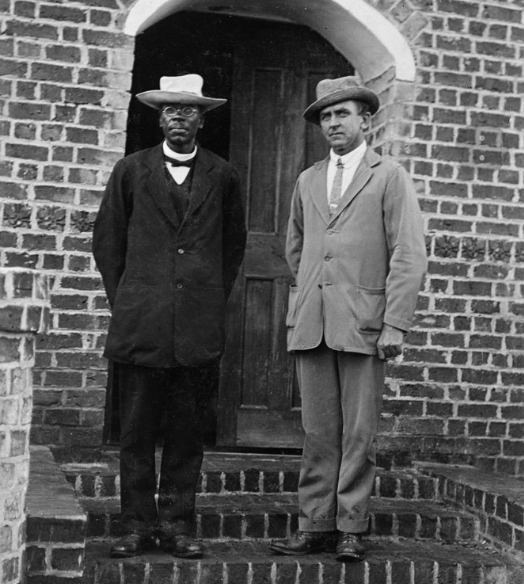 For his part, the pastor begins to organize the rebellion which must, in the long term, make it possible to drive out the British. He gathers around him some faithful of the surrounding missions, from the highlands and the Ncheu district, and organized secret meetings between December 1914 and January 1915. The idea was to launch several simultaneous attacks on the nights of January 23 and 24, 1915 against white landowners and settlers . Chilembwe's forces are relatively small: some 200 people, mainly from the Providence Industrial Mission, who must join forces with Ncheu and provoke a more general uprising of Africans dissatisfied with their fate…
Decapitated colon
On January 23, the attack focused on the hated AL Bruce Estates, where manager William Jervis Livingstone was killed and beheaded. Slogans ring out: "Africa for Africans! ", "Hit then die! Five other men are killed, two whites and three blacks. Another farm is set on fire and its white owner seriously injured while a black girl dies in the flames. The following day, January 24, John Chilembwe led a religious service at his mission church, outside which Livingstone's head was paraded, impaled on a pole.
To read

Kaouther Adimi: "Wanting to regulate the lives of Muslims is inspired by colonization"
But the hoped-for popular uprising did not take place, some lieutenants defected, Ncheu's forces never arrived and very few weapons were recovered. Martial law was established and fierce repression, led in particular by a militia of settlers, the Nyasaland Volunteer Reserve, forced Chilembwe to flee to what is now Mozambique. Most of the rebels were executed without trial and their leader was shot on February 3, 1915. The commission of inquiry set up shortly afterwards would obviously blame Chilembwe for the revolt, but would also point to the inhuman working conditions in the Livingstone estate.
The presence of John Chilembwe where a statue of King William IV should have stood will probably not please everyone
Malawi won't gain its independence until 1964 and many historians consider that Chilembwe launched its revolt too early, without enough preparation. Nevertheless, his approach would have inspired the pan-African thinker Marcus Garvey like the founder of the South African Native National Congress, which became the African National Congress (ANC) in 1923, John Langalibalele Dube… But also independence fighters, a little less fifty years later.
The presence of John Chilembwe on the fourth plinth of Trafalgar Square, where an equestrian statue of King William IV should have stood, is probably not going to please everyone. And this, especially since Samson Kambalu has chosen to represent him larger than life, with his large hat, next to a much smaller white settler. At the time, Africans were supposed to discover themselves in the presence of a white person. "By increasing in height, the sculptor elevates Chilembwe and agency, revealing the hidden narratives of underrepresented peoples in the history of the British colonial empire and beyond," reads the mayor's website. London. The artist Samson Kambalu hopes that his work "will help establish a dialogue with the United Kingdom, which has yet to become aware of its colonial past". In Malawi, streets are named after John Chilembwe, his face adorns several banknotes and his memory is honored with a national holiday on 15 January.