The poaching of pachyderms arouses widespread disapproval almost everywhere in the world. But who cares today about the illegal traffic in Pachypodium ? Only a few customs officers and a handful of gardeners.
If the scientifically obsolete term "pachyderm" ("thick skin") refers to both elephants and rhinos, the genus " Pachypodium ("thick foot") is still in common use among botanists. It includes plants of the Apocynaceae family, which are characterized by a very thick stem at their base, the caudex. Originating mainly from Madagascar and southern Africa, these superb slow-growing plants are highly prized by collectors.
Lure of profits
And that is their misfortune. For the sake of profit, traffickers do not hesitate to uproot centuries-old plants, the trade of which is strictly regulated by the Convention on International Trade in Endangered Species of Wild Fauna and Flora (Cites), signed in Washington in 1973 and in force since July 1975.
To read

Madagascar: how covid-19 and drought created an unprecedented crisis situation
Over the past five years, at Roissy airport, French customs have made 24 seizures of protected plants from the Big Island, and four from South Africa, knowing that Thailand tops this sad ranking. , with 29 cases.
"Every day, one of our teams is dedicated to checking parcels. Certain sources are the subject of particular attention, explains Sylvie Ralle, head of the office of control of the company Sodexi, which operates in Paris airports. As soon as it was discovered that plants were exported illegally, we became aware of the importance of the traffic from Madagascar. There are a large number of protected species in this country, so we are very vigilant. »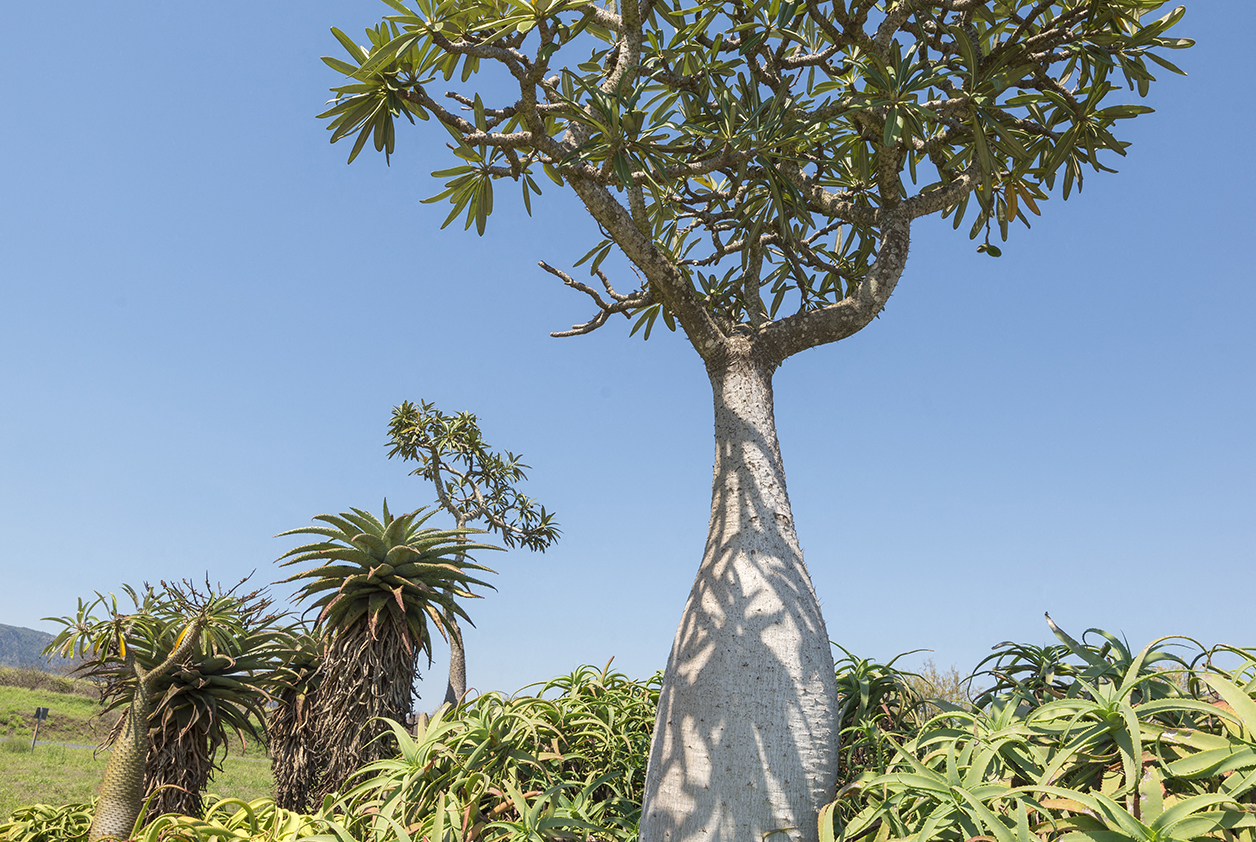 96% of seizures over the past five years were destined for the Asian market (Hong Kong, Singapore, Thailand). In Roissy, the average value of the 16 seizures of 2022 was estimated at just under 3,230 euros each. Certainly, we are far from the price reached by ivory or rhinoceros horn, but it is a whole natural heritage of extreme fragility that this traffic puts in danger.
On the parcels seized, vague indications leading to anonymous post office boxes
Wrapped in newspaper, sometimes treated with fungicides, the Pachypodium and Malagasy euphorbias – such as guillauminiana –, torn without great precaution, find themselves wounded, damaged, in the cold western latitudes. On the parcels, vague indications lead to anonymous post office boxes. For customs officers, it is impossible to send them back.
"If they were sent back to Malagasy botanical gardens, these plants would be stolen along the way and would never reach their destination. Without a doubt, they would not even support the return trip, "explains Sylvie Ralle. So, rather than letting them die or destroying them, French customs officers call on experts from the National Museum of Natural History (MNHN) in Paris. They send them samples and photographs, which allow scientists to confirm whether they are protected species and whether it is possible to save them.
Strictly controlled trade
"In France, the MNHN is the scientific authority for Cites, explains the head of living scientific collections. When there is a seizure, we determine if the plants are part of the protected species. When this is the case and it is interesting to keep them, we recover them, in a logic of preservation. »
The Pachypodium and Malagasy euphorbias are listed in appendix 2 of the Cites listing "species which, although not necessarily currently threatened with extinction, could become so if trade in their specimens were not closely controlled".
To read

Madagascar: the Makay massif, an Eden to protect
When the MNHN decides to keep the seized plants, it becomes the owner, but cannot sell them. The collection gardeners attached to the Museum collect them in less than a week and install them in a secret location so as not to arouse covetousness.
"Yesterday, customs brought us two boxes containing 80 Pachypodium of Madagascar, explains one of the gardeners in charge of maintaining the seizures. On the package was indicated the name of a company, Ryan Green Garden, of which the only trace is a Facebook page; the addressee appears to be an individual based in Hong Kong. Each Pachypodium was wrapped in newspaper… The irony is that one of them was surrounded by a page mentioning an article on the looting of Madagascar's treasures – including the trafficking of endemic plants! »
Aspect biscornu
Arranged on the stalls of greenhouses maintained at 21°C, euphorbias and Pachypodium recovered in this way are recovering under the watchful eye of the gardeners of the MNHN. "You can see right away that these plants didn't grow in the nursery, they didn't grow straight, you notice the traces of the rocks between which they grew and, of course, the wild cuts at the roots" , explains one of them.
Most of these plants are endemic to Madagascar. Some, even, only exist on a single hill. Growing in difficult conditions, often in an arid environment, they sometimes have a crumpled bonsai appearance. A Operculicary pachypus about thirty centimeters high can thus be more than a hundred years old. This is all that makes them valuable to collectors of rare species: their quirky shape, their age, their rarity.
We didn't expect to have so many. The pace has accelerated over the past five years
"When the plants arrive here, continues the gardener in charge of Malagasy species, they are immediately placed in microporous volcanic rock, pozzolan, and it doesn't take much more for them to resume. Especially when they are small. Euphorbias usually leave better than Pachypodium. We place the operculicaryas in dry sand to try to make them start again. We groped our way for a long time, but now we are starting to manage well, we stick to the Malagasy seasons. Among the seizures, there are also seeds, which the teams sow in an environment similar to their home environment.
Between 8 and 20 billion euros
Whatever the form in which they arrive, the plants entrusted to the Museum are listed and recorded on a database, then valued. "We did not expect to have so many seizures, explains the scientific manager. The pace has accelerated over the past five years and we are close to overflowing, with plants coming mainly from southwestern Madagascar. We will try to redistribute them to different European botanical gardens in order to multiply the chances of protecting and disseminating the species. »
If the information collected during customs seizures "goes back to the investigation services", there is, for the time being, no cooperation between Roissy and the Malagasy customs services. Undoubtedly the sums at stake are not large enough. Still, at the global level, CITES estimates that the trafficking of endangered species, fauna and flora combined, generates between 8 and 20 billion euros. It comes in fourth place after the drug trade, human trafficking and traffic of weapons.