Illiteracy
Born in Benin in 1978, this merchant's son grew up in a rather well-to-do environment, but realized very early on that his parents' illiteracy (in French) weighed on their daily lives. "My father told me each time that he was not stupid, but just illiterate," recalls the CEO of the Cerco group, based in Côte d'Ivoire. It is precisely so that older people, for whom learning to read and write is much more difficult, are no longer embarrassed by their situation and embarrassed to ask for help that he first designs his superphone.
Voice command
The most polyglot of voice assistants. Called Kone and equipped with artificial intelligence, it allows Capo-Chichi's "superphone" to adapt to the habits and preferences of its user. According to its designer, Kone is able to understand the 15 most representative local Ivorian languages: Senufo, Baoulé, Yacouba, Bété… But also speaks other African languages ​​such as Yoruba, Swahili and Wolof. For now, the Capo-Chichi superphone is able to identify a fifty African languages. But the researcher is working to increase this figure to a thousand by the end of 2023, thanks to volunteers who agree to share their native languages.
Partnership with UBA
If Alain Capo-Chichi calls his laptops "superphones", it is because he believes they are improved versions of smartphones. In particular thanks to Moïse, a super-application – app giving access to other apps – which allows you to perform 20 daily life tasks, such as ordering taxis, making purchases or paying bills, all without leaving the application. , which also includes digital financial services such as mobile money. In partnership with the Nigerian bank UBA, the Cerco group says it has designed a cross-network electronic wallet service called Open Pay, allowing users to carry out transactions between the MTN, Moov, Orange and Wave networks.
To read

Viva Tech: despite its delay, French-speaking Africa is asserting itself
The "Internet Bus"
In 2003, when Internet access was still in its infancy on the continent, Alain Capo-Chichi set up the first computer bus to train Beninese. Completely itinerant, it was intended to compensate for the financial inability of secondary schools to invest in computer rooms, as well as to relieve students of the high cost of cybercafés. Subsequently, municipal agents also had access to it. Inside what was then nicknamed the "internet bus" – functional thanks to the wifi created barely four years earlier – computers, video projectors to train middle school students in all new internet technologies information and communication.
From education to business
At the age of 20, Alain Capo-Chichi founded, in Côte d'Ivoire, Cerco, a secondary education project with particular emphasis on information and communication technologies, in a spirit of accessibility. to all. The institute is now present in Benin, Ivory Coast, Mali, France and China. But, more than a school group, Cerco was designed by Alain Capo-Chichi as an innovation hub offering B2B digital services ranging from web marketing to copywriting and communication web.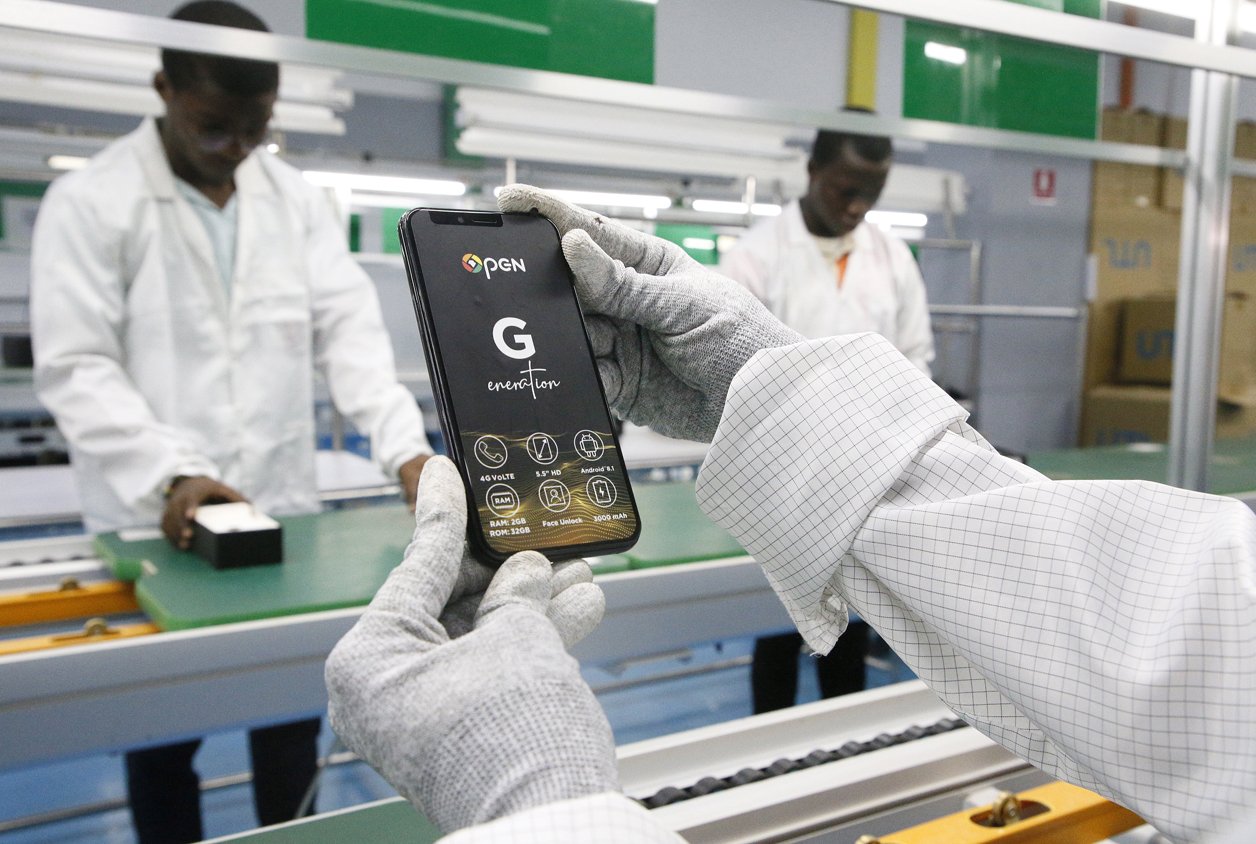 100% African blend
Installed in the Village of information technologies and biotechnology (Vitib), in the free industrial zone of Grand-Bassam, in Côte d'Ivoire, the Cerco factory has an assembly line for smartphones and computers with a capacity of 4,000 units per day, or nearly 1.5 million mobile phones per year. A project at a cost of 7 billion CFA francs (about 10.7 million euros), for which the Ivorian government has injected 3 billion CFA francs. The Cerco factory has in the past been a partner of Microsoft and Intel in assembling computers, but its operations are now entirely devoted to the "superphone".
To read

Nokia wants to regain its rank in Africa with its new phone
Orange
Official partner of the first generation of African improved smartphones since the beginning of 2022, the French telecom company was convinced by Cerco's innovation and signed a multi-year partnership. Nearly one million phones have been ordered and co-branded OPEN. They will then be distributed throughout the entire network of 200 Orange partner agencies and stores in Côte d'Ivoire, which have some 20 million customers across the country. Similarly, Orange has entered into a partnership with Ivorian television channels, allowing the user to make purchases online using QR codes.
Multi-awarded
On the academic level, Alain Capo-Chichi is a university assistant professor in computer engineering at the University of Paris 8. Doctor of information and communication sciences, he is also an associate member of the Unesco chair in ICT at the University of Bordeaux.
In 2004, six years after the creation of the Cerco group, he received the prize for best manager of the year in Benin. A year later, he is the only African selected – out of ten candidates aged 18 to 40 – by the young International Chamber, which rewards projects with a strong social impact. He won the trophy thanks to the initiatives of the Cerco group. Finally, in 2010, he was honored by ECOWAS (Economic Community of West African States) as the best young entrepreneur in the field. of l'innovation.