"I'm depressed at the idea of ​​having to travel all the time", admits frankly Ibrahim Mahama, passing through Nantes to present his exhibition, The Memory of Love, installed at the Frac des Pays de la Loire, before flying to Tunis. No respite for the new face of contemporary African art, which has made a name for itself internationally by participating in renowned events (Venice Biennale 2015 and 2019, Documenta 2017 and Sydney Biennale 2020).
His monumental installations, based on the recovery of utilitarian materials such as hessian bags wrapping museums, theaters and other ministries, have toured the world. The foal from the famous White Cube gallery in London, who usually invests urban space, offers another reading of this textile fiber usually used to transport cocoa, a trade established after the independence of Ghana by the British, by the sweat of men. Thus, on the roof of the Nantes space, the jute bags are hoisted like flags. A nod to the favorite material of the 35-year-old visual artist, who, however, is gradually abandoning it in favor of other materials.
Rethinking the local ecosystem
If the native of Tamale, the main city in northern Ghana located more than 600 km from Accra, is homesick, it is because he has been working for about eight years to develop local contemporary art within of his "institution", as he likes to define it. The Savannah Art Center for Contemporary Art (SCCA) is his life's work. Built on the clay soil of an old industrial silo, completely abandoned after independence, this Brutalist-style educational art center is constantly expanding. It houses exhibition spaces, the Red Clay studio, inaugurated in 2019, an artists' residence… It is also the place where Ibrahim Mahama lives.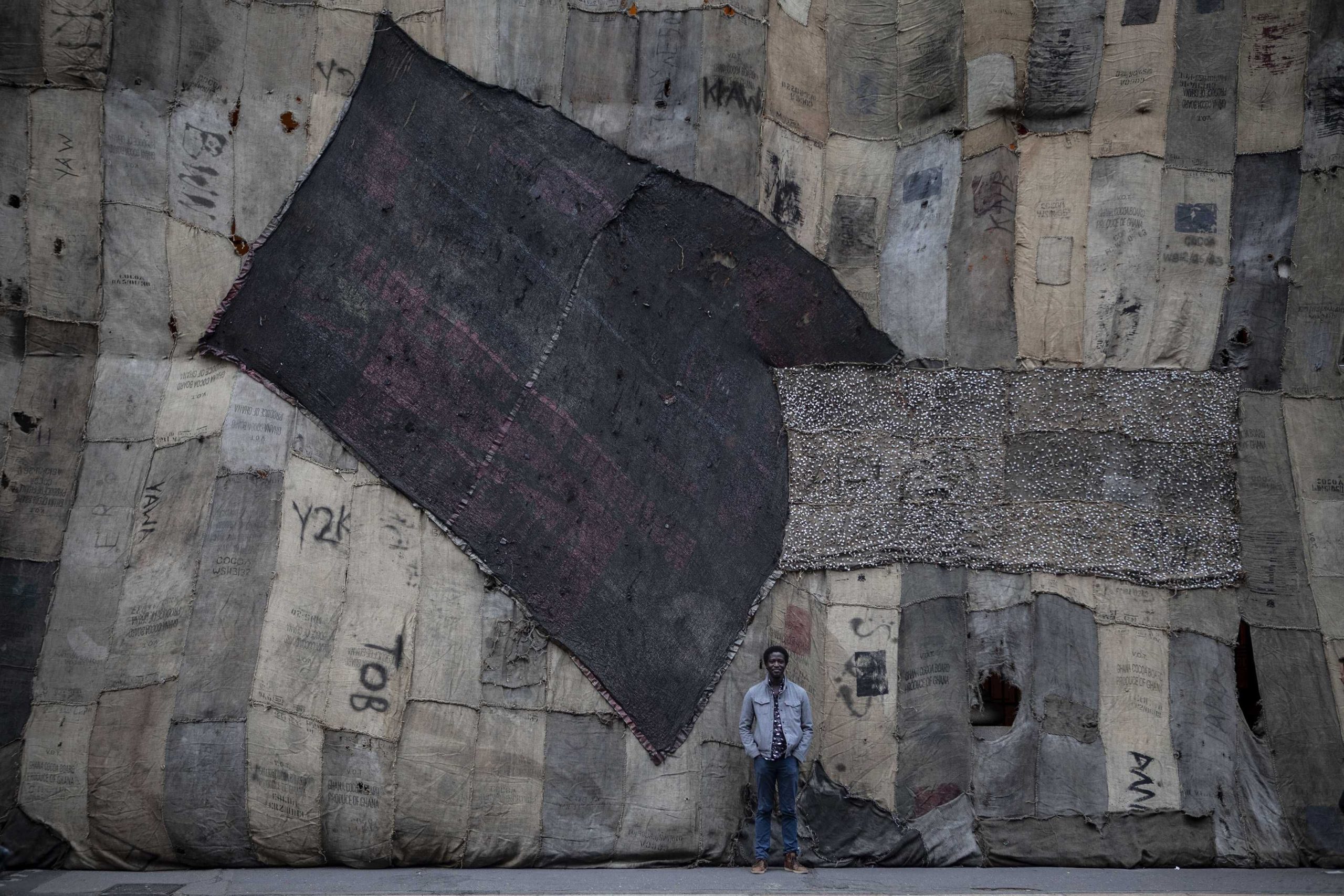 The vast land that surrounds the building hosts a series of planes – recovered by this master bargain hunter – whose seats will soon occupy a cinema hall. "This site, like so many other infrastructure projects attempted by Great Britain in Ghana, is the symbol of the failure of a system which was to offer the country emancipation, dissects the builder, never short of ideas. Now, the whole difficulty consists in knowing how to avoid falling into the neocolonial pitfall, by using the past to better project oneself into the future. »
Learning from precariousness
Despite his international recognition, there is no question for Ibrahim Mahama, based between Accra, Kusame and Tamale, to expatriate. "I need us all to live together, under the same conditions. Impossible for me to live elsewhere and to have access to more comfort and goods. We are all in the same situation. I have to stay to learn from this precariousness and try to make things happen, "claims this member of a large family who grew up in a polygamous family where the notion of sharing was essential.
But if Ibrahim Mahama can count on "the community", the inhabitants of Tamale and the surrounding villages who give generously to contribute to the work, he does not benefit from any institutional support. He is also aware that "global connections" are necessary. "I struggle in everything I do in Ghana since I started this project eight years ago. Not a single representative of a cultural institution has agreed to take an interest in my work," laments the 30-year-old who finances his vast artistic project on his own thanks to his exhibitions.
To read

Ghana: contemporary art at the Venice Biennale… while waiting for a national art museum?
In the open space of the Frac, recently inaugurated in a former banana plantation located on the banks of the Loire, twenty huge wooden doors are aligned along the wall. Flocked with wax fabrics made in Ghana, from the personal collection of this compulsive archivist, these relics of the post-independence period will immediately be reinvested in Tamale to dress the brick walls of the SCCA. Just like the windows, taken from old post-colonial buildings, and the armchairs, also upholstered in colorful vintage prints. A formalist work for those who have accustomed us to more conceptual, large-scale productions on migration, globalization or even economic exchanges. "I collected these fabrics from a grandmother in Tamale, before storing them for ten years in my workshop. I was not comfortable with wax at the time, because of the aesthetics it conveys. Today, I am ready ", he concedes.
Open eyes
On the opposite wall, a display case from the 1950s was salvaged from the library of the Kwame-Nkrumah University of Science and Technology, Kumasi, where Ibrahim Mahama studied fine arts. "In Ghana, it's a garbage industry. We send the weakest students to study art, he denounces. But they are smart, they have potential. It's just that people are scared because art is seen as crazy in this country. But we just have a different way of seeing things, he nuances. I want to use my practice as an example to encourage people to let their children take an interest in this discipline and open their eyes to society. »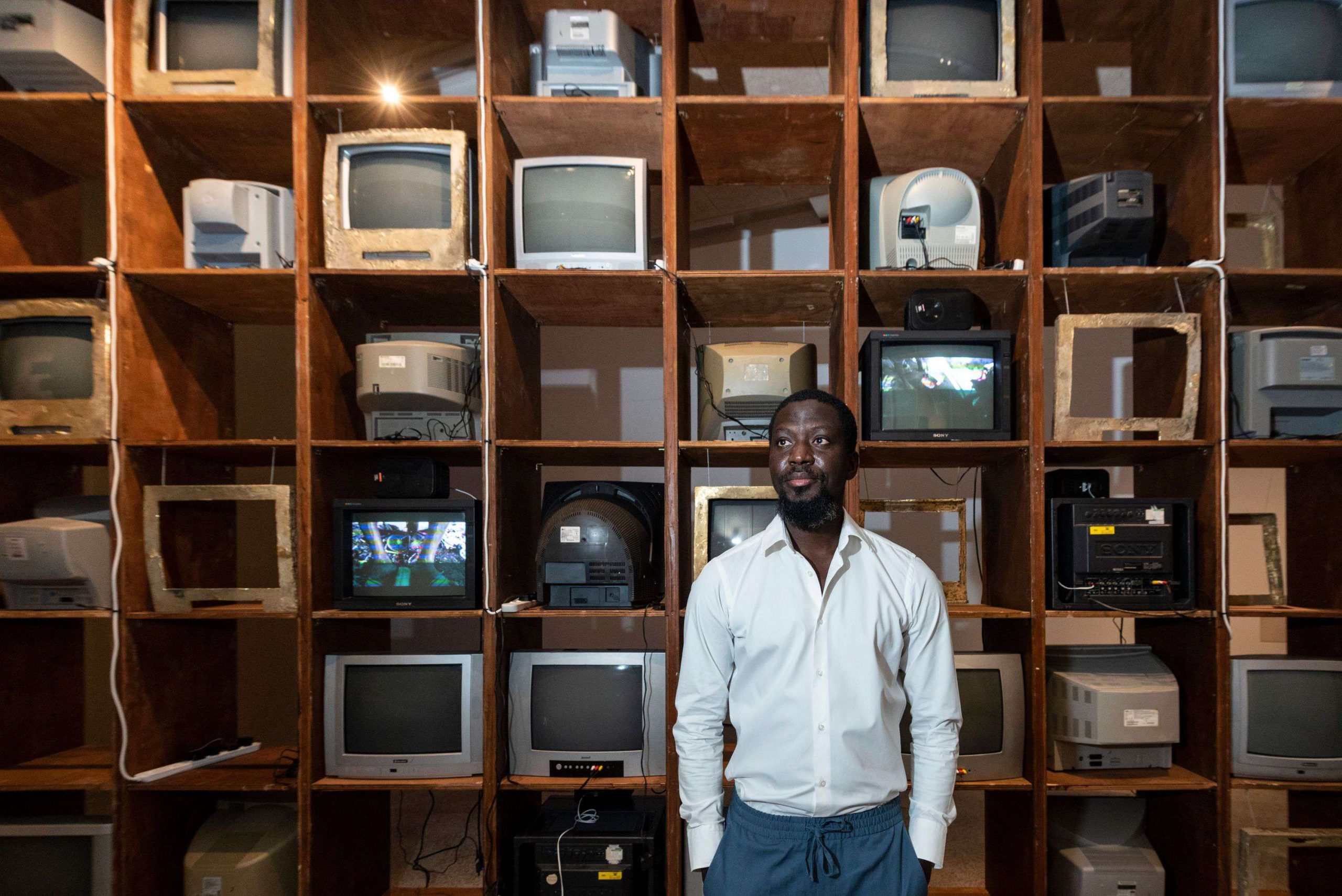 The trained painter, who graduated in 2013, was fortunate to receive the support of his family. As a child, he drew all the time, and his father ended up pushing him to take a specialized course. "My father of course has other children, and one of them is a surgeon. Thanks to him, my career as an artist could be much more possible", ironically this former anxious, who is not unhappy to have found a form of freedom thanks to his practice.
Archive for future generations
Mahama paints less and produces little today, leaving his collaborators to materialize his ideas. But for the Frac, he has specially made collages of vinyl covers to complete his collection of vinyl records. high life – he has about 2,000 in total – , which adorns the shelf of his former establishment. The visitor is invited to select the cake of his choice and to play it on a turntable provided for this purpose to explore the Ghanaian musical memory. Sound archives that will then be kept at the Savannah Art Center and made available to future generations.
It is resolutely towards them that this quasi self-proclaimed mentor turns. It regularly receives buses from 50 schoolchildren and students from neighboring villages on its site, and organizes workshops open to all and free of charge. "When you go to the National Museum, which by the way is in very poor condition, you have to pay admission. How to build an egalitarian society if we still live on the vestiges of a system that destroys our archives and does not provide access to culture for all? he wonders. The simple fact of asking the question threatens you with being called a communist. But it is above all a question of apprehending things for the good of the community, of thinking collectively, insists this follower of Marx's thought – but not from an economic point of view, he warns. I'm not a business man, I don't make things for profit. The value of my art is not commercial, it is social. »
Ibrahim Mahama, The Memory of Love, until October 2 at the Frac des Pays de the Loire